About The Range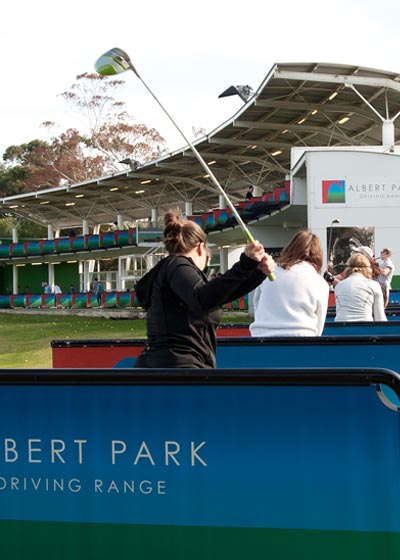 OUR FACILITIES
The Albert Park Driving Range is Melbourne's Premier Golf Practice and Learning facility. We cater for all levels of golfer – from a complete beginner to a scratch marker – or simply a bunch of mates wanting to have a bit of fun.
We're floodlit and open till 10pm every weeknight.
The Range
Our range is over 250 metres long and has 56 individual driving bays. It doesn't matter if it's raining – 41 of our bays are completely undercover.
Short Game Practice Area
Our separate "short game" practice area is one of the best in the country comprising of two massive individual putting and chipping greens (with both overlooking Albert Park Lake)
Lessons and Clinics
We have some of the best fully qualified PGA teaching professionals in the country available seven days a week, as well as beginner clinics, ladies clinics and school holiday clinic programs.
Pro Shop
We have a fully stocked pro-shop with all the latest gear and clothes, as well as hire clubs if you haven't got any of your own. If you're looking to buy a new clubs a driving range is the best possible place to purchase – you can have a test run out on the range before-hand and actually see where the ball goes – and we have an expert club fitter on hand to ensure the best fit for your game.
Catering
We're also fully licensed, so you can have a relaxing beer out on our deck area, or while you practice.
---
We are open to the public, 7 days per week and you do not to make a booking to use the range.
You can hit 100 balls for $20 and even enjoy a cold beer at the same time. All pricing can be found here.

It doesn't matter if you're a seasoned weekly golfer or a complete novice – you're welcome at the Albert Park Driving Range. We pride ourselves on having a casual, relaxed attitude to one of the world's more traditional sports.

That doesn't mean we don't take our job seriously when we have to – in fact all our golf coaches are PGA qualified and our shop staff are some of the best in the business. We simply like all our patrons to have a fun, relaxed time – so leave your world's worries at the door, come have a hit, a chat and plenty of fun!
Yes, we are Melbourne's number one golf learning and practice facility. Yes, we have a team of Australia's best, PGA qualified golf coaching professionals. Yes, we are situated just minutes from Melbourne's CBD. Yes, we have a fully stocked Custom Fitting studio to try out the latest gear from most major suppliers. Yes, we have a fully stocked retail shop with the latest golf equipment and accessories. And yes, we are fully licensed so you can have a beer and a chat while you belt balls as far as you can!
If you need a private golf lesson, if you would like to join one of our golf clinics or if you just want to practice your golf swing, come on down to the Albert Park Driving Range.
So regardless if you're a golf tragic or out for a bit of a swing and fun with your friends, the Albert Park Driving Range is simply the best golfing destination in Melbourne.
And for all the latest APDR news, events and updates follow us now on FACEBOOK.